We Are Your In-Home Care Team
We collaborate with doctors and caseworkers to provide patients with holistic in-home care services. Our specialists are trained and experienced to treat anyone from infants to the elderly. With over 18 years of experience treating residents in the Portland metro area, our mission is always to provide exceptional care.
Our Patient Promise
With every interaction we want our patients to feel cared for and to get the care that their unique situation demands.
What Our Clients Say
Some kind words from our respected clients

"Professionalism with compassion"
"RN/BSN, is knowledgable, passionate, very helpful professional who always makes himself available to his clients whenever we need him. I highly recommend EQC…"

"Compassionate group of people"
"The staff at EQC Home Care treated me with respect."

"Awesome Service!"
"The staff has been awesome. They come in twice a week and do everything that I need. They assist me with cleaning and with daily living. The lady that takes care of me is friendly and…"
People like you make a difference in this world. Essential Quality Care is focused on helping you grow and empower you. If you're a caring individual dedicating to providing exceptional, family focused care for medically complex patients, then we want to work with you.
Employee Spotlight
Mesay Kelile
Meet Mesay Kelile, our Staff Accountant. With over five years of expertise, Mesay holds a BA in Accounting and Marketing Management, along with a Bookkeeper certification. His diverse career covers sales, marketing, billing, and payroll roles, with particular strengths in billing management, financial reporting, and accounting analysis. As a firm believer in the golden rule – "Treat others how you want to be treated," Mesay's integrity is a cornerstone of our team. His vast skill set and experience allow him to provide valuable insights, making him a vital asset to our organization.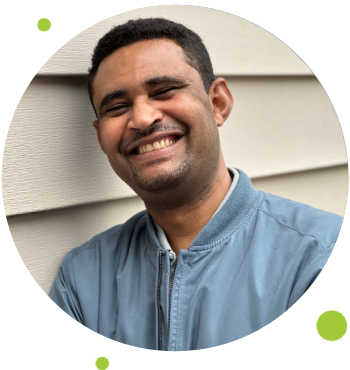 Monika Bille Seidlitz, RN, BSN
Monika Bille Seidlitz is a Nurse Manager with over a decade's commitment to nursing. She holds a BSN and several key certifications including RN Delegation, AHA BLS, and ACLS. Her specialty spans across acute to end-of-life care. Monika's role emphasizes patient advocacy, providing personalized in-home care, and education to patients and caregivers. She also offers nursing delegation services in Oregon, focusing on pediatric and long-term community care. Guided by Emerson's words, "To know even one life has breathed easier because you have lived…" Monika's approach prioritizes patient comfort, embodying the essence of successful nursing.